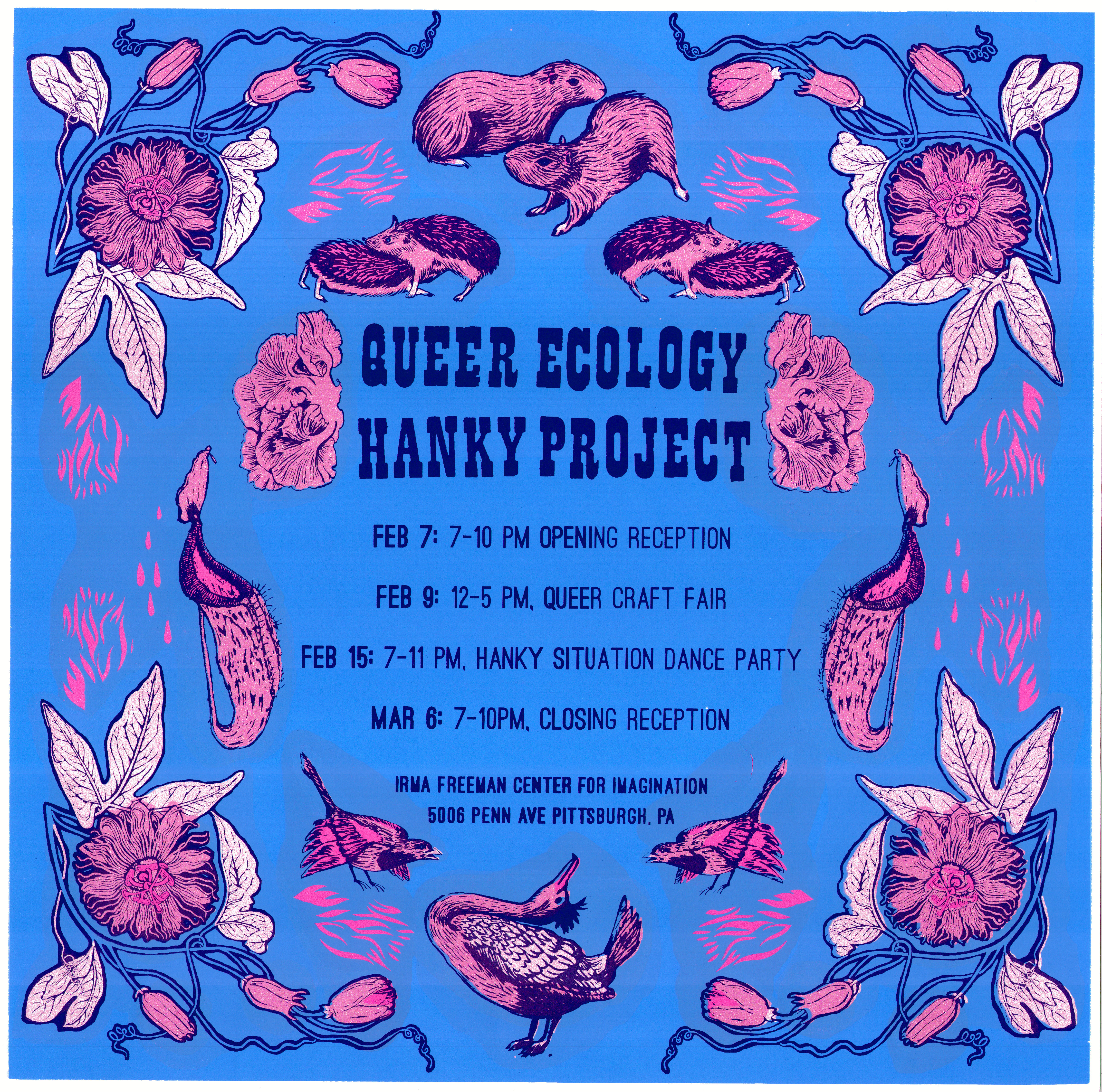 Queer Ecology Hanky Project (QEHP) is an ongoing traveling exhibition with over one hundred and twenty artists from across North America—organized by V Adams and Mary Tremonte. Through exhibitions and interdisciplinary community-centered programming, QEHP showcases a diverse array of artist responses to Queer Ecology—an emerging area of inquiry which unites the study of biology, environment, and sexuality with a framework of queer theory—and celebrates a wide spectrum of print mediums and methods.

QEHP was exhibited most recently in June 2022 at Zygote Press in Cleveland, Ohio. Previously, the project was on display at Women's Studio Workshop in Rosendale, NY (2021), Maine College of Art in Portland, Maine (2021), the Irma Freeman Center for Imagination in Pittsburgh, PA (2020), and the White Page Gallery in Minneapolis, MN (2019). The project is heading next to the Queer and Trans Ecologies Symposium at the University of Minneapolis, MN (2023) and the Plains Art Museum in Fargo, ND (2024).
QEHP has given us windows into divergent possibilities for gender and sexuality, and models of resilience and resistance in a world that feels increasingly bleak. In recent years, queers of all genders and proclivities have expanded the definitions of the original gay hanky code—which emerged in the United States in the early 1970s, as a means for gay men to subtly communicate sexual desires—to include different bodies, identities, and activities. This show originates from a love of designing, printing, and distributing bandanas as wearable artwork, and a means to continue a queer communication of flagging, of finding affinity with plants, animals, mycelia, and each other.
QEHP is full of artwork intended for activation—artist bandanas that will hopefully accompany walks in the woods, accessorize outfits at queer dance parties, bundle up foraged mushrooms, and start conversations. In that spirit, our past exhibitions have been accompanied by accessible programming to dive deep into the project's themes, including: hanky code dance parties, queer ecologies woods walks, fungi fermentation workshops, panel discussions, and a series of workshops exploring printmaking and hanky adornment techniques utilized by artists in the project.
To further investigate the ideas and images of the QEHP, V Adams and Mary Tremonte created the artist book Exuberant Possibilities during an artist residency at Eureka! House. QEHP has been featured in publications Ecotone Magazine and Ladyscience and has been interviewed for WESA News Pittsburgh and Booklyn Calling Podcast.